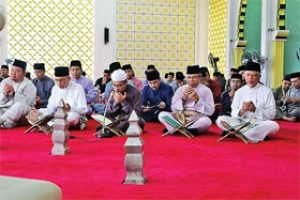 SYARIKAT Takaful Brunei Darussalam (STBD) along with its subsidiaries, Takaful Brunei Am (TBA) and Takaful Brunei Keluarga (TBK), recently held a Tahlil and recitation of Surah Yassin ceremony at the Royal Mausoleum.
Led by the Chairman of STBD, Yang Dimuliakan Pehin Orang Kaya Seri Dewa Major General (Rtd) Dato Seri Pahlawan Hj Mohammad Hj Daud, the gathering included members of the Board of Directors, officers and staff of STBD, TBA and TBK.
Also present was the Chairman of the Shariah Advisory Body, Pehin Orang Kaya Paduka Seri Utama Dato Paduka Seri Setia Hj Awang Salim Hj Besar.
The ceremony began with the recital of Surah Yassin followed by the Tahlil and Doa Arwah in honour of His Majesty the Sultan and Yang Di-Pertuan of Brunei Darussalam's late parents, Al-Marhum Sultan Hj Omar 'Ali Saifuddien Sa'adul Khairi Waddien and Al-Marhumah Duli Raja Isteri Pengiran Anak Damit.
The ceremony is part of STBD's religious activities slated for the noble month of Ramadhan which includes activities such as Tadarus, Khatam Al-Quran and a charity drive for the underprivileged and the needy.
Azli Azney
BANDAR SERI BEGAWAN
Tuesday, June 30, 2015
The Brunei Times