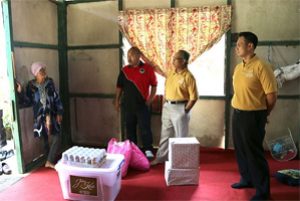 TAKAFUL Brunei and its subsidiaries, TBA and TBK once again reached out to the less fortunate as part of the company's corporate social responsibility activities during the holy month of Ramadhan. Pehin Orang Kaya Seri Dewa Major General (R) Dato Seri Pahlawan Awang Haji Mohammad bin Haji Daud, the Chairman of Takaful Brunei and Haji Shahrildin bin Pehin Dato Haji Jaya, Acting Managing Director along with the management, officers and staff participated in this activity, called Jalur Kasih.
For this year, 24 officers and staff visited 1 1 houses all over the Brunei-Muara District while another 20 officers and staff visited 13 houses in the district of Kuala Belait, Tutong and Temburong districts. During this visit, they had the opportunity to meet up with the misfortunate unemployed, couples with many children, non-working single mothers, orphans, disabled and senior citizens who lacked proper treatment. The teams were split into two groups in order to have the less fortunate families received their donations faster.
According to a press release, Takaful Brunei teams handed stocks of groceries such as canned foods, clothing detergent, cooking ingredients, fragrant rice and more. Takaful Brunei hopes to create awareness that the less fortunate need help and that the community should come together to provide assistance in preparation for the festive month of Syawal to make sure the joyous occasion is enjoyed by all layers of the community. As well as enhancing closer ties to communities all over Brunei Darussalam.
Photos from Takaful Brunei's Jalur Kasih can be seen through the TakafuIBrunei Facebook page and Instagram account.
BANDAR SERI BEGAWAN
Thursday, July 2, 2015
Borneo Bulletin